Now this is what I call an awesome day! I spent a full day in Havana, and a night enjoying the famous show Tropicana. From 8:30am until 3am I had a smile on my face. This is what I call a vacation.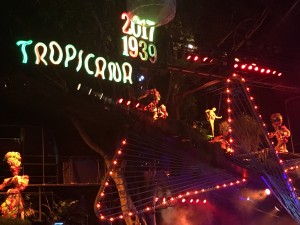 To sum up the day, HAVANA IS AWESOME. I really want to get back there, and if I can't this time, if I ever come back I will definitely stay in Havana city. There is so much history, so much culture and lovely things to see. Note to you: Unless you are there to burn away get off the resort, get some culture and I trust you will have an amazing time.
I met the only two other Americans at my resort and dozens of Canadians who not only took me in, but we shared some great laughs (bonding over Justin Bieber and Lil Way over dinner) and they were able to share some tips about other things I could do while here in Cuba.
I am going to attempt to tell my story of the day through pictures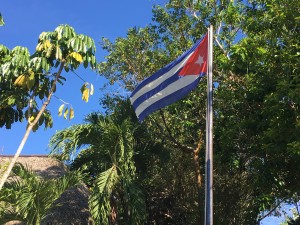 Bacunayagua Bridge (valley full of palm trees and where the a very common mode of transportation is hitchhiking  (2nd sport after baseball). Christopher Columbus has said it is the most beautiful country (he ever discovered). You will also notice the fields of bananas and sugar cane
By the way you ever notice in a tour group, there are always a couple of people who are always late or stray away from the group OR guys who run off at every pit stop to try a rum at the nearest bar (I would have totally joined that latter group if I had a partner in crime)
I loved learning about the history, which I could have heard more about Fidel Castro but it seems Cuban people want to just boast their pride in their culture and kind of gloss over that. I must note that Americans and Cubans relationship is very fragile. While I personally didn't feel any negative feelings, and at times I felt they welcome our gullible tourist nature, there were definitely times where the tour guide noted that until Cuba got Guantanamo Bay back, there would never be a strong relationship between Cuba and America
Everyone seems to cycle in Havana and along the coast, enjoying the Malecon sea wall as well. Once again not giving much attention to stoplights other than the guard at various intersections with his whistle directing traffic. It seems very relaxed and free of billboards and neon lights.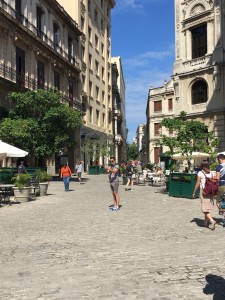 It reminds me of French quarters in New Orleans, which makes sense given its French influence
Learned about the THREE MUSKETEERS: Rum, cigar and coffee
Apparently my demeanor, as I watched people and stood in silence most of the tour, and my sporadic spouts of Spanish throughout the day, made me seem local. My tour guide even said I look Cuban. I am taking that as a complementJ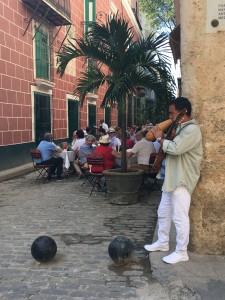 If you take a seat at a café, close your eyes on a hidden street, you can hear music throughout the city. Literally the acoustics throughout the Old Havana were amazing. Even the ladies that begged were singing beautiful Spanish words but most likely were just asking for money.
Note to future travellers: Bring wipes or toilet tissue from your hotel room. Along the roads at rest stops or cafes they may charge you a peso even if you are not obliged to pay they can be quite pushy. Even in the nicest of restaurants toilet paper is hard to come by
HAVANA – HASTA LUEGO!